Classic, Elegant, and Romantic Dining in Camillus, NY
Dinner begins with Amuse Bouche. Home-made rolls and our famous date nutbread are served with specialty salads, including caesar, honey and poppy seed with fresh fruit and toasted almonds raspberry vinaigrette with Gorgonzola cheese and a garlic tulie. The above are included with all entree selections. House specialties include lobster bisque, beef wellington, boneless roast duck, and a variety of fresh seafood shipped directly from Boston Harbor. Also featured are chicken, veal, and steak specialties. Conclude your dinner with a selection from our dessert and pastry tray or Bananas Foster prepared at your table side.
Delightful Classic And Modern Cuisine
Roast Prime Rib served with Yorkshire Pudding
(Friday & Saturdays)… Ajus & Horseradish sauce $29.95     King cut $33.95 

Rosemary & garlic crumbs, Tzatiki sauce
Mixed greens with fresh fruit, Victoria Almonds, and Honey Dressing
(Friday & Saturday) Cajun Grilled with cayenne onion crisps $34.95

Shrimp, lobster & Scallops, sautéed with mushrooms & green onions, lemon garlic, wine & herb butter sauce, Served in a crispy phyllo shell
Spinach, parmesan & garlic butter, mornay sauce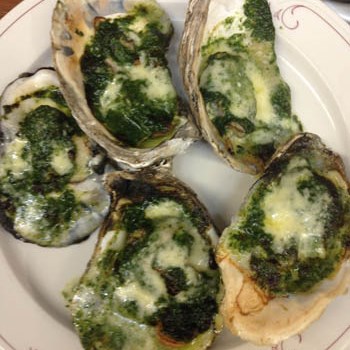 Chef Cesta Began His Career at the Inn Between Restaurant in 1978 and through the mentorship of friend and colleague Chef Randall Colman he learned the craft and skills of the culinary arts.
He became certified at the Executive Chef level at age 28, one of the youngest to ever achieve this; he has since been re-certified 5 times.
He has won first place in 2 national recipe contests, numerous medals in culinary competitions and is an award winning ice sculptor. He is a recipient of the Camillus Chamber of Commerce "Business Person Of The Year," award and a Camillus Republican committee member. He continues to work the demanding schedule of a Chef owner and attributes the success of the Inn Between to the exceptional team of workers both past and present who strive to provide exemplary service and fabulous cuisine in an unmatched setting .
A founding member, past President, Vice President, Secretary, Chairman of the board and treasurer of the Syracuse chapter of the American Culinary Federations Syracuse N.Y. Chapter. He is the first chef to earn the distinguished "Chef of the Year" award given by the federation twice; In 1989 and in 2009.
He also received the Syracuse New Times "Best Chef" award in 2009 and he was recognized by the "Slow food C.N.Y." organization in 2010 with an award for featuring and using local agricultural products.
His 16 acre restaurant property located just west of Syracuse N.Y. comprises a 20 hive bee apiary for honey production, an orchard with over 12 varieties of fruits, a vegetable & herb garden and a trout pond.
Fabulous! The food was amazing!!! The service impeccable! Our server Kayla was incredible and made us instant upgrade fans! I wish all my dining outs were this perfect!!! Thank you for a lovely evening!
Paula Missigman
2022-09-14
Recently had my daughter's college graduation party at the Inn Between. It took place in a lovely room on the second floor, filled with sunshine coming through the many windows. A group of 40 people gathered here and enjoyed the most delicious food, and impeccable service. I have heard from many of the guests saying how much they enjoyed the food and the variety of what was served, a menu that was designed by the exceptional Chef/Owner of this great restaurant. Can't wait to go back!!
Fine dining in the finger lakes. Excellent service creative cuisine and beautiful country setting.
My wife and I had a terrific dinner. The service was spot on.
Couldn't rate the Inn Between any higher. Staff are lovely , friendly and attentive. Reasonably priced and the food is outstanding. If your looking for a delicious meal with great portion size I'd highly recommend. Menu has lots of tasty options and restaurant itself is lovely, modern and clean. Vol au vent is amazing here. Excellent place
We had a party of 13 for my mother in laws 80th birthday.We sat upstairs facing the front. Our waitress was great. She was attentive and a little busy at the same time. Drinks were ordered and arrived very quickly.I had the king cut prime rib cajun grilled. It was awesome! There was a little spiciness to it so be forewarned. Salads and appetizers were all well prepared and didn't last long! We finished the night off with an assortment of desserts. Not one complaint about those! Loved everything and we will be back. Thank you!!
Excellent service and food. Treated very well
Jessica Catelak
2022-08-05
A very tasty last two visits we've had! I love the anchovies on the ceasar salad. The restaurants ambiance is pretty old school, its not very modern. No cocktail or spirit list to choose from. The food is delicious though, some things are definitely hit or miss but overall pretty great. My only real complaint was the 2nd time we visited we ordered the lobster bisque and it tasted… bad, like ammonia maybe the lobster was bad when they cooked it down. We told the waitress and she told the kitchen who simply tasted it and said they put too much cherry wine. When a week earlier it was very tasty. No one got sick but it was overwhelmingly bad to just be too kuch cherry wine. Everything else it very old school nice restaurant with a lovely dining room and location. We'll definitely be back.
Contact us in Camillus, New York, and let our fine dining restaurant's fabulous menu satisfy your craving for American classics.
Call us : 315-672-3166

For Current Events & Updated Info, Please Visit Our Facebook Page

See our Facebook page for daily takeout menus!